Udo F. Brehm


Hello fellow Internet surfer and welcome to my home page. I'm very glad that you made it this far . . . and I hope that you'll stick around long enough to get to know just a little bit more about me and my life. After all, these days, acquaintances that begin in cyberspace are often the most real, vivid, and long-lasting - and maybe that will be true of us.
BWL-I Pages

Special greetings to Nicol, Bettina, Jennifer and Mathilde!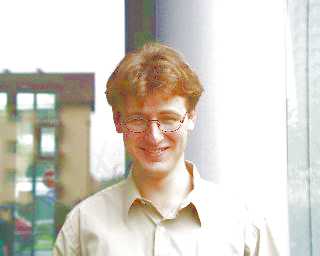 My Background
I was born in a small village in Bavaria's Central Valley named Röbersdorf, but my
family soon gave up the "Central" for the "Silicon." So I grew up both in the midst
of the technical revolution and in its heart. Add to this the fact that both my parents
were "farmers" before the term "information worker" was invented, and you'll find it small
wonder that I'm something of a computerphile.

My Interests
I guess that the best - and fastest - way to really get to know me
is by discovering what I like. So here goes . . .
I love to dance standard, to sing in the choir and to play the guitar.

My Personal Records


Links to My Favorite Sites
Another way to really get to know someone - especially someone who spends
as much time on the Internet as I do - is to learn their favorite sites:
My bookmarks
And to visit me in my little dorm of course, here's how you get me:
more detailed (from Bamberg):
Description of way
Here are my dear friends from Huntington Beach
The Reicherts
Send me e-mail to:Udo F. Brehm
---
This page was last updated on Freitag, 09. Juni 2000 11:30:14 +0200
Copyright © 2000 Udo Brehm.