WP's HP: HOME | [Bike]: Bike Tour Tips ~ Cycle Around The Noris | Help? | Deutsch

---
WP's Bike Corner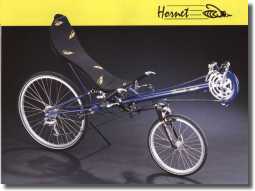 Radius Hornet (www.123rad.de)
Ergonomic vehicle in the non-virtual world (thus in First Life ;-). Not that it moves by its own, but even a cyclist without athletic ambitions notices the difference. For instance if one reaches an average speed of just above 20 km/h (12.5 mph) with a (race) MTB one will achieve close up to 25 km/h (15.5 mph) with a (tour) recumbent. Provided that it is an adequate course, thus neither extreme off-road nor exclusively on tar by head wind.
Cycling on a recumbent stresses the legs, however, anyhow it goes easier. While one really feels a MTB tour of 100 km (about 62 miles), with the recumbent some additional ten miles are easily possible.
The faster one can cycle the more advantage lies on the side of the recumbent. A recumbent without fairing is somehow comparable with a racing bicycle. A completely streamlined recumbent is not to beat - almost any speed record is held by recumbents. But they have their weight and their price.
Concerning my touring recumbent: In the same tarred drop about 55 km/h (approx. 34 mph) are possible on the MTB in racing position out of the ride, with the just rolling recumbent easily more than 80 km/h (approx. 50 mph). Guys on racers tell me it significantly starts to roll them away at about 35 km/h (~22 mph) downhill. (That means, however, I'll really have to speed, if I want to benefit from that in the plain. And I don't intend to take ASPIRIN™ Drive or something similar. ;-)

The best comment up to now: »Is this a solar mobile?« - (Well, if you drive in the sun you'll get brown. ;-)
The a bit different bike - recumbent
The advantages
The relaxed sitting position permits a comfortable ride and a great view. Gentle to the backside and also one's wrists are relieved.
Thus long lasting tours, even without intermediate rest day between, are possible.

The reduced wind resistance improves the average and maybe the maximum velocity.
Combined with the relaxed sitting position this increases the range per tour and day by day.

In a frontal crash the crush section starts far away from one's nose. And one does not fall so deep.
The disadvantages
Difficult (better: unfamiliar) to ride. Due to the low center of gravity a correction of driving faults by balancing with the weight is hardly possible and riding a mid or low racer turns need to be prepared (steer opposite and then tilt into the turn). Usually the rear wheel is biased with reduced weight and rather tends to skid - caution on binderless gravel and wet leaves.
Overall less physically but mentally demanding.

No sight over parking cars, fences, etc. and one is hard to see - but easy to kill. What's about a pennant?

There is no relief of the leg muscles by using the weight. No chance to throw your weight on the pedal. So have much fun climbing up long hills. Above about 10% it starts to get really annoying, nevertheless even 17% are feasible. And why not?
Tips
Riding a recumbent is different - therefore check during a longer test ride whether a recumbent holds what you are expecting.
Perhaps bicycles are somehow a bit rough run due to the twitch/torque of the back and forth moving legs - but you will internalize automatic countersteering very soon.
Center steering recumbents are a special theme, but interesting to ride (even without holding on!).

In all probability slipping off the pedals of a bicycle results in a fall. Thus mount racing locks at least, namely such with plastic cage and loose tighten belts. Or just try click pedals (so-called »clipless« or »with cleats«; somehow similar to a ski binding). Not, however, the racing version, but e.g. SPD Shimano SM-SH55 plates with multi-exit option. Choose as pedals e.g. Shimano PD-M324, which can be used together with normal shoes, too. Therefore one can drive clicked out with them as well. In general one should note that depending of one's tour preferences due to more shifting phases, light (and due to the cranking angle flat) MTB shoes are flat, ankle-free the better choice instead of pure racer shoes.

Revolutions is what you need, especially in slopes, i.e. restrictions in changing gear will get on your bones. Blind ambition will cause overstressing of your knees. Ensure to have enough gears.

Possibly you lie in the sun like on a deckchair - danger of sunburn! And consider wearing (sun-) glasses with UV protection.

One additional note: Beware of horses, with or without riders. They fear recumbents and even they bolt - especially when one uses a pennant. Although when one slowly approaches only or even stops. The critical distance is about 5 to 10 meters (15 to 30 feet).
He is just sleeping during cycling
First experience: Quantum Toxy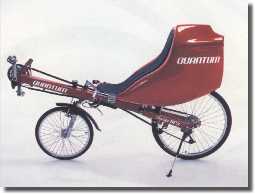 Early Quantum Toxy; here with rear case
Easy to handle - the full suspension Quantum by Arved Klütz of those times was really good-natured. In spite of the rather simple construction with a rubber buffer the rear suspension proved very effective. Built with Al square tubes (unusual optics!) the Quantum was comparatively light but yet stable.
After two test rides in March 1997, in all 90 km (approx. 56 miles) on the road and gravel, I was sure: I need a recumbent even though I almost tipped over three or four times when stopping. (No fallen angel, but bloody beginner. ;-)

The present models clearly show the enormous technical progress, refer to the link on the left.

The small 20 inch front wheel may show deficits in barrier climbing (but one just rarely uses a recumbent in single trails ;-), however, it supports agility and transportability. In combination with adequate suspension reduced comfort does not ensue.
To exhaust the roll performance on the road there are models with big front and rear wheels (24 to 28 inches). But even velodrome time trail machines show the classic short-wheelbase geometry - small front, big rear -, even if they do not provide uniform small wheels due to aerodynamic reasons (low rider!).
Travelling sedan chair: Radius Hornet Full Suspension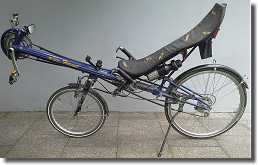 Radius Hornet (I) Full Suspension
Especially on pavement riding the Hornet is nearly more comfortable than a MTB-Fully and concerning cross-country capability it is in competition with a city/tour bike - so sufficient enough for gravel paths in the forest or if need be for field paths. Bikes of this short-wheelbase geometry are preferred for long distance tours, even in countries with not so good transport connections.
With approx. 17.5 kg (approx. 35 pounds) rather heavy (CrMo frame), but thanks to the in-ride lockable rear suspension (really recommended) slops up to 15% are to be mastered with bearable effort. And in opposite direction the Magura HS11 hydraulic breaks reliably provide safety.
The deep located indirect steering gear is very agreeable - (nearly) always one gets one's feet on the ground just right in time. Besides it provides a good protection against risk of injury when upsetting. And it is extraordinary comfortable.

Result: A very elegant but robust and reliable bike with a lot of intelligent detail solutions which can be used almost universally.

The own modifications like the small rear bag (standard frame bag) and the two-part rear reflector and tail light combination centered to the seat have been proven well. So has done the rear-view mirror (wide angle car indoor mirror) at the derailleur tube as well. In the drinking bottle with double bottom a cable lock and the patch kit inclusive a telescope air pump are stowed away. The opposite holder is foreseen for the real drinking bottle.
The only disadvantages are the 133 mm short modified dampener (rear suspension) manufactured by Bitubo, if it needs service at all, and that one gets caught on the speedometer bar from time to time. The speedometer is is located at the beam above the fork head.

Since April 1997 the chaser in the speed limit area Zone 30. And concerning distance, almost one time around the world.
Hot wheels: HP Velotechnik Speedmachine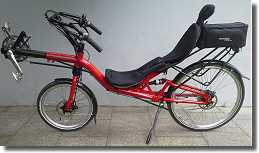 HP Velotechnik Speedmachine
Easy to see the HP Velotechnik Speedmachine is more comparable to a racer than to a MTB. In fact made for tear, however, it is not a pure racing machine, and one can ride it on well graveled (read: sanded) paths with comfort and speed. Not least due the excellent suspension and the low weight of the Al/carbon frame below 15 kg (approx. 30 pounds) in ready to ride condition. And even up the hills the Speedmachine convinces. With its highly developed bag carrying capabilities it turns to a very sporty long distance bike.
The upper »aero handlebars« may looking strange, but permit an easy getting on and off, offer a very comfortable seating position and provides a good steering control. They do not excessively limit the field of vision. The ride is stable, fast and relaxed. The Grip-Shifts perfectly fit to recumbent riding - one switches gears intuitively and clean. Even through some gears at once. Some special parts like carbon tube insert and light dampener support weight (and money ;-) reduction. Hub dynamo, LED lighting and self-adjusting disc breaks are pure luxury, but effective and carefree.

Result: A convincingly developed bike built on high quality level which invites you to speedy cruising.

The standard 15 liters bicycle fold rack bag in the slipstream of the seat offers more than sufficient room for patch kit, air pump, drinking bottle and other accessories. Speedometer and rear-view mirror are mounted to the handlebars just in the range of vision. And the bell as well.
The sole disadvantage: The control cables could be routed a bit better around the fork head in order to create more distance to one's thighs.

Since May 2013 in running-in phase. And now running for the pleasure.
Hornet versus Speedmachine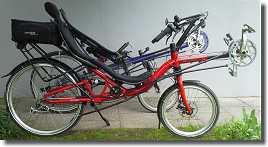 Hornet - Speedmachine: tourer - racer
Equivalent to the HP Velotechnik Streetmachine the Hornet provides a wheelbase about 15 cm (approx 5 inches) shorter than the Speedmachine and its seat is positioned with about 60 cm (approx. 23.6 inches) almost 13 cm (approx. 4 inches) above that of the Speedmachine. That makes it notable more nervous, its steering requires steady control. To leave the handlebars unattended just for less than one second makes a distinct intervention necessary. (And causes some cold sweat.) Nevertheless one gets used to it very soon and will only take notice of it in direct comparison to the Speedmachine. One must downright force this one into a curve - first swing to the outer side then tilt into the curve - whereby narrow curves (elbow to hairpin bends) afford attention, because one may happen to get into the way of the handlebars. Although the usual ride on tear or plain graveled paths is completely relaxed and a little bit faster. In the downhill test mentioned above the Speedmachine approaches almost 90 km/h (approx. 56 mph), about 8 km/h (approx. 5 mph) more than the Hornet. The Hornet, however, scores on loose gravel - any bumps are covered by automatic steering, concerning the Speedmachine on this (shaky) underground caution and concentration is indicated. And this although the Hornet offers smaller tires than the Speedmachine (but this would be easy to change).
High seat
Cycles with wolves: Steppenwolf Tundra FS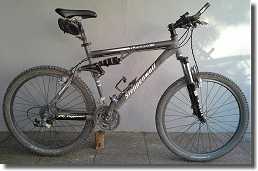 Steppenwolf Tundra FS
Else often I'm on tour otherwise, when it is stormy weather or in snowy winters and for raging - live richly... And meanwhile the Steppenwolf Tundra FS is switched to a new frame of 2007. However, I've chosen the Magura HS 33 hydraulic brakes again.
Advantageous are the wiring exclusively at the upper tube, the damper position out of the splash region and, of course, the low weight Al frame. And the 26 inch wheels provide agility. Besides it looks pleasantly unobtrusive.
The switch from Grip-Shift towards Rapidfire levers takes a bit of time. But the gear change works very fast and precisely. The grip space and possibilities, however, are slightly reduced. Therefore additional bar ends are recommended.
The small under saddle bag offers sufficient room for a patch kit and a small mobile phone.
Really a very impressive vehicle, even hill-up. Besides a good-natured, reliable and robust companion. On tour since May 2003 and also just half way around the world.
Back in time: on the road again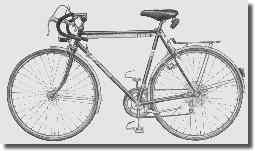 Hercules Saragossa
Even though the 1980s Hercules Saragossa ten-speed sport bike showed some limitations I regret somehow. In fact a bent wheel was not so seldom, but it was easy to correct. Frame fracture was a foreign word during seventeen years and thousands of miles. (Steel, however, is better to weld than aluminum and shows more fatigue strength.)
For the usual gravel paths it was easily sufficient enough by far and it was in some kind the better tour bike, especially when longer sections on tar were topic. And to tell the truth - how often one breaks through MTB adequate heavy terrain?
Nowadays hollow section rims offer enough stability and the sprung seat posts earn perfect scores, so that after the MTB era a cross bike is supposed to follow. An unsprung, but fast and robust tour and trekking bike just for various grounds. (And if is just unavoidable, however, due to advanced age then with electric tail wind ;-)
Just a matter of setup
Flight level
Exact saddle height, the distance between saddle and pedals, resp. - e.g. according to Handbuch Radsport, BLV, 1994, p. 44 - amounts to:
saddle height = standover × 0.893
measured between top level of saddle and middle of bottom bracket.
And if no pocket rule is available at the moment? Adjust by just putting your heel on the pedal with unbend leg. Then your leg is not completely unbend when the ball of your foot hits the pedal. Conventional bikes with diamond frame (inclusive MTBs with Y frame) and recumbents don't differ herein.
You can calculate the frame height of a racer out of the standover by a factor 0.65 and of a MTB by a factor 0.61. Recumbents usually come in two manufacturer-specific sizes small and large or short and long, resp.
Need for speed
Evoked by the small »experts« group long time ago - gravel paths compared to tar cost 3 to 7 km/h (about 1.86 to 4.35 mph) average speed.
Three hours and 75 km (about 46.6 miles) with the ten-speed sport bike through the Nuremberg forests almost exclusively on gravel paths showed me that this speed makes one only busy with cycling without any eye for the nature. Therefore I'd like to work on my aerobic base fitness with a joyfull song on my lips. According to the source above (p. 198) one can estimate this region using the pulse frequency:
Heart rate for 60% physical exercise = 0.6 × (220 - life years)
Below 50% it won't pay, over 70% it will dwindle into work. (That's not to say I'm not on the move with maximum warp sometimes. And with up to 9 000 km (~5 0000 miles) per year - if it is going very very nicely - there is a little bit to come. ;-)
Revolution!
Except for training with about 120 revolutions per minute (rpm) pros crank on a MTB with about 90 rpm, on a racer (and recumbent) with about 100 rpm. Of course, climbing a hill can bring reduction. (Concerning me a cadence of 60 rpm is just enough in the plain so far. ;-)
Last but not least
Tips for cycle around the Noris (Nuremberg):


Some selected bike tours in the Nuremberg region:
To external bike links:

Links
Example recumbent does not exist, just as little the conventional upright bicycle exists. In fact the wealth of variants is even bigger. The range covers the two wheel racing wedge, possibly with (partly) streamlined fairing, and the three-wheel urban and shopping vehicle as well. Also four-wheel versions and tandems are available. Even suspension, front-drive and motor are not unusual.
If money plays no role, weight will be not a problem. Easily carbon can significantly push the empty weight below 10 kg (~22 lb). Otherwise one enters with bicycles without fairing the region of about 15 ± 3 kg (~33 ± 6.6 lb). Trikes easily reach 5 kg (~10 lb) more.

Despite all prophecies of doom it is no problem to climb hills exceeding 10% incline (18% are not funny with MTB, too ;-). A harmonic cranking is important for the endurance power, not the force alone. Recumbents tend to be heavier and they often lack of the climb gear, because they are optimized for speed and are more critical respective minimum revs (respective the drivers are ;-). Even gravel paths are not a problem in general, especially concerning tires one has free choice from racer slicks to mountain bike lugged tires. And this according to recumbent geometry usually in the sizes 20, 24, 26 and 28 inches.
In general the geometry makes it: the flatter the seat angle the more streamlined, the higher the seat position the better maneuverability, and with recumbent trikes you cannot avoid go-cart feeling anyway. Of course, they are well suited for stop and go in downtown and for low speed, but need room.

To end with Neil Young: Keep on rockin' in the free world.
---
©WP (1998 -) 2018
http://www.fen-net.de/walter.preiss/e/bike.html
Update: V9.1, 2018-03-02